Tile and Grout Cleaning Cairns Region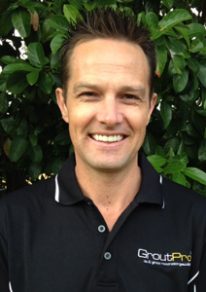 Aaron Mason
GroutPro Cairns North
0403 488 215
GroutPro is pleased to welcome Aaron and his team, servicing Cairns and surrounding suburbs. Aaron offers all the GroutPro Services including our standard tile and grout cleaning, glass restoration, slippery floor treatments and much more. With FREE onsite no obligation quotes Aaron and his team will assess any tile and grout issues in your home or property, offering help and advice on types of services as well as cost saving options.
We all know the weather in Cairns can be hot and humid for a large part of the year, this is an ideal environment for mould and mildew. Tiles and grouting in showers, bathrooms, kitchens and pool areas suffer badly from mould, mildew, dirt and staining in these northern tropical regions. Silicone sealant can become grey and dirty and soap scum covered glass shower screens become permanently marked. Aaron and the GroutPro Cairns team are here to help you with all these issues. Terracotta, slate or stone, we can service them all. Slippery tiles are hazardous around pools and outdoor entertaining areas. GroutPro has a unique treatment to ensure these slippery surfaces no longer are a cause for concern.
Our Gallery of before and after images of recent jobs by our teams can give you a great indication of the quality of work GroutPro offers. With excellent customer service and exceptional workmanship you can't go past GroutPro Tile and Grout Cleaning Specialists.
Here's what a customer said recently on a job done by a GroutPro team:
"Had 2 x showers re-siliconed, 1 treated for mould under the old silicone. Jake from the GroutPro guys was brilliant. Arranged to quote within 24 hours – late on a Thursday, work was arranged for the following Tuesday and Jake did everything to work around us.
Super professional, friendly and good at what he does. The work I have had done today is top-notch and I highly recommend him to others. Top quality work on the re-siliconing – makes me realise how bad the old one was!
Thanks again Jake, will definitely keep you in mind for other jobs in the future."
See all our reviews on womo.com.au
If you're looking for a full bathroom or kitchen refurbishment you may want to consider and review your options of a full makeover from GroutPro. Aaron and his team will show you how our tile and grout cleaning for showers, baths, flooring, walls etc as well as our glass restoration service will transform your bathroom or kitchen to look brand new again. Our unique grout coloursealing can change the colour of your grouting on walls and floors to match your decor around the home. With over 89 colours to choose from you'll be amazed at how a different colour grout can change the look of your old tiles. This is an excellent way to save on the cost of a total refurbishment.
Why not give us a call today and have Aaron call by for an obligation free quote. He'll quickly assess your needs and can book a day and time to suit you.
If you're looking for tile cleaning in Cairns, please feel free to fill out the Quick Quote form to the right and a GroutPro Tile and Grout Specialist will get back to you within 24hrs. We offer a no obligation FREE quote for all jobs.