Restoring Slate Tiles To Their Original Glory
Cleaning and Resealing Slate Tiles by GroutPro
Slate tiles look fantastic as a floor tile however it's important to seal the surface of slate tiles because being a natural material it is porous. This means dirt and grime will penetrate into the surface which can't be removed without specialised cleaning equipment. Normal mopping, steam mops and supermarket cleaning products are just not able to remove it.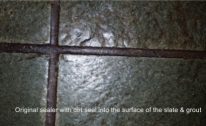 Assuming your tiler did seal your slate after laying it, the sealer chosen could range from the cheap DIY products available at hardware stores, or it could be a more "professional grade". The difference between qualities of sealer is durability, adhesion and resistance to discolouration. GroutPro Specialists only use our own GroutPro professional grade sealer which is typically applied in three coats to provide a long lasting glossy appearance and which is easy to clean with conventional mopping.
Our Goonellabah team started work on a job recently which included a 9m² strip of slate tiles into the laundry. The tiles were laid some 33 years ago. The owners had the slate cleaned and resealed just over 2 years earlier by another company who sealed over the top of dirt and stains left behind by their cleaning process. The owners believed there was no way we could restore their slate back to its original beauty, it was so badly marked and stained.
Scott, our team leader in Goonellabah, recommended a major clean involving stripping off the old sealer and had originally hoped to achieve an 85% chance of bringing the tiles back to their original appearance when first laid. Pre-testing the tiles with a number of stripping products Scott found some performed well on the tiles but not on the grout lines which remained dark and stained.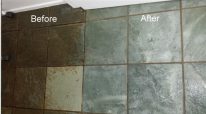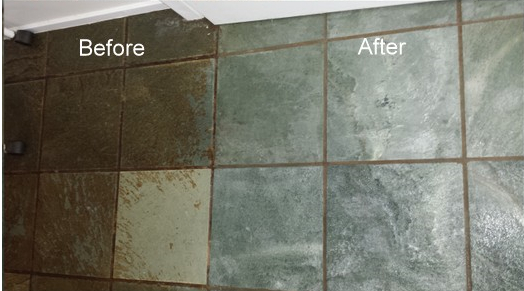 With Scott's extensive experience in grout and tile cleaning he settled on a commercial grade stripper which he found was effective in the softening and removal of this particular sealing product on both tiles and grout. The key was to allow sufficient time for the application to sit and soak through into the old sealer, then Scott was able to remove all traces of the old sealer and was then able to thoroughly clean the slate tiles and grout in preparation for the new sealer. The result was a near 100% removal of the dirty old sealer and clean of the slate tiles underneath.
The owners could not get over the change in appearance. Once sections of the old sealer had been removed and the tiles properly cleaned, they could see just how badly discoloured and stained the old sealer and the slate under the sealer had been.
The owners went on to book and confirm the other 60m² of their slate flooring for cleaning and restoring. Scott was also able to assist them with stained windows so the entire house was looking sparkling. The owners also recommended Scott to their neighbours with similar slate flooring who were very impressed with what they saw and immediately booked Scott to restore their slate floors too.
Fantastic results for Scott and his team in Goonellabah. If you're looking at stained slate tiles every day, you'll want the best service around: GroutPro's Tile and Grout Cleaning service. Get an Obligation FREE Quote or Call us today 1800 822 459