GROUTPRO PRODUCTS
---
GroutPro experts supported by expert products
 GROUTPRO PROFESSIONAL PRODUCTS
Not only are our GroutPro specialists the experts in tile cleaning and grout restoration, but are supported by world class cleaning and restoration technology with GroutPro's range of cleaners and sealing products.
All our products have been extensively trialled and tested in the laboratory and the field. With over 5000 jobs a year, GroutPro products have proven to be extremely effective in achieving incredible results.
GroutPro's engineering team has tested many products from around the world to find the best, and if we can't find it, we develop it.
Our products are technically advanced and effective in restoring and reviving old, unsightly tiled areas in commercial buildings, public spaces and private homes.
When our GroutPro tile and grout experts use our GroutPro products, we guarantee you will get amazing tile, and grout cleaning results and your ongoing cleaning will be easier.
---
MAINTAIN YOUR GROUT AND TILES WITH  GROUTPRO HOMECARE PRODUCTS
We have a range of GroutPro homecare products to keep your tiles and grout looking like new for even longer!
Our team know what they are up against when fighting dirt and grime and have created a range of homecare cleaning products that not only guarantee a spotless clean… but are safe to use around your home, business, family and pets.  Just ask your local GroutPro expert about what products are best for you.
GroutPro Home Care Products are safe, non-corrosive, and pH-neutral, which means good things for you and our planet. The pH-neutral cleaners contain no solvents, acids, or alkalines so that they can be used on almost any surface, including natural stone, marble, terracotta, timber flooring and much more.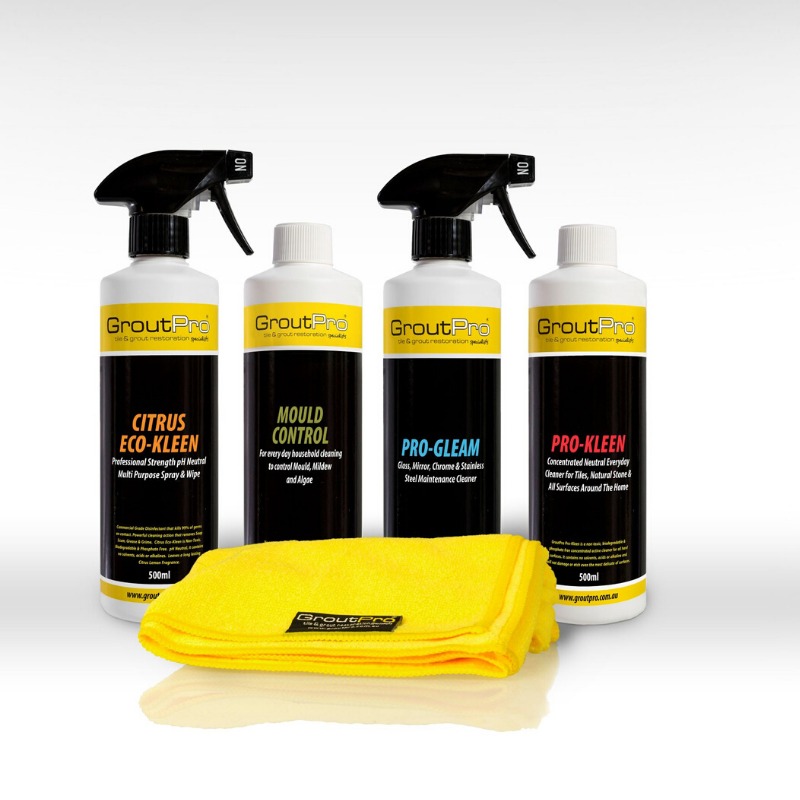 WHY WE  RECOMMEND GROUTPRO HOMECARE PRODUCTS:
Safe

Biodegradable

Environmentally friendly

pH-neutral
No solvents
No acids
No alkalines
Australian made
GroutPro cleaning products are designed for commercial, industrial and domestic use, such as family homes, commercial office space or large hotels and event spaces including:
Resorts & Tourist Parks
Pools & Outdoor Areas
Gyms & Fitness Centres
Health and Aged Care Facilities
Exterior Tiling
Serviced Apartments, Hotels & Motels
Retail, Offices & Commercial Spaces
Bars, Cafes, Restaurants & Kitchens
Property Managers – Residential & Commercial
Construction Industry
The combination of Australia's No.1 tile and grout restoration specialist in conjunction with GroutPro's scientifically designed and tested cleaning and sealing products means we can guarantee our work every time.