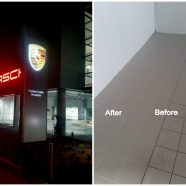 A scheduling crunch on the construction of a new Porsche automotive showroom and servicing facility in Melbourne was one case where GroutPro's considerable resources came to the rescue on an epoxy grout job. Here's what happened:
A tiling company originally hired to lay tiles and install grout were struggling with their work load and lack of expertise with installing epoxy grout. Typically, tilers have a loathing for installing epoxy grout as it is more difficult and time consuming than cement-based grout, especially on this type of small textured tiles so to ensure the construction schedule was not disrupted, GroutPro was called in to install the 1180sqm of epoxy grout. Epoxy grout is a very hard and durable material that offers vastly superior stain and wear resistance, and provides excellent waterproofing properties compared to conventional cement-based grout which is notorious for staining.
On inspection of the workshop and showroom floors it was soon clear that a team of GroutPro specialists would be needed to meet the project timeline. Three additional GroutPro experts arrived on the job and sixteen days of intensive grouting and finishing saw the completion of an extraordinary job. These four grout experts were installing 70-90 sqm of epoxy grout per day and it was calculated that 160 epoxy kits were used by the end of the sixteen days.
Epoxy is GroutPro's favourite product to offer as we know how durable and beneficial it is in all buildings, especially in high traffic areas such as commercial and residential bathrooms and kitchens. We don't just service large commercial properties, but residential homes as well. If you'd like to find out about epoxy grout or any of our other services, then give us a call on 1800 822 459 or enter your details in our quick quote form on our website https://www.groutpro.com.au/ for a free quote from one of your local GroutPro specialists.