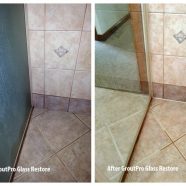 Are You Looking To Restore The Glass In Your Bathroom?
A perfectly clean bathroom is something we all work for, but after a few years have you noticed that the glass in your shower or mirror isn't what it used to be? Have you started noticing small white stains in your glass that you can't seem scrub out?
It's a very common issue with bathroom glass stains. Over time, mineral deposits in the water create spots and stains on the glass that if left un-checked, can become quite an eyesore that seems impossible to get clean, and it will start to damage and etch the surface of the glass.  If left too long the damage can get beyond repair, resulting in you having the expense of totally replacing the glass.
Glass restoration from GroutPro can make your bathroom look like new
At GroutPro we use our own Professional Glass Restorer, which is designed to remove stains from your glass, making it look near new. GroutPro Professional Glass Restorer is an environmentally and family friendly product that is used to remove calcium, hard water staining, and is water-based and biodegradable. Its non-corrosive formula contains no solvents or acids and is designed to not leave a single scratch or mark on your glass. With your shower glass looking like new you don't have to get frustrated every time you clean your bathroom only to have the glass look like it hasn't been touched.
There are tonnes of "miracle" products available at the supermarket for cleaning your shower glass that claim to remove tough stains, spots, calcium, mineral deposits and soap scum, but most of the time they fail, and many actually cause other damage to your shower due to the aggressive chemical concoctions they're made from.  These chemicals aren't necessarily the things you want hanging around your family either.
How does GroutPro Glass Restoration work?
We use GroutPro brand products in a 2-stage process. The first stage is to use our specialised glass restorer formula to clean the dirt and mineral stains from the surface and out of the "pores" of your bathroom glass.
After we have removed the glass stains we start on stage two.  In stage two we spray the glass with GroutPro Professional Glass Protector, which provides you with an easy to clean coating that stops water from clinging to the surface of the glass, preventing the opportunity for glass stains to re-appear.
Once your glass has been restored looking after it is simple.  Just wipe over the shower glass after use with a squeegee or soft cloth to remove any water or residue, and that's it.
See these photos below of a before and after glass restoration job from one of our GroutPro professionals, James from Perth.
If you think your glass could do with some restoring all you have to do is contact your closest GroutPro specialist. Or for more information, contact us.