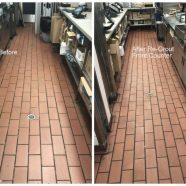 When Melbourne Airport had problems with the floors in one of their commercial kitchens they turned to GroutPro. With the entire floor of a large commercial kitchen to be restored in one of the busiest buildings in the country, a very tight time-frame was given to complete the work so that the restaurant could get back to business. GroutPro Werribee joined forces with two other GroutPro specialists to attack the problem at full speed over a marathon 30 hours without a break. Old damaged grout was removed from the entire floor and new epoxy grout was installed to ensure compliance with hygiene regulations were met, and to make the surfaces much easier to clean. The entire floor area was restored to look as good as new again, but having installed epoxy grout, it was also stain free and impervious to penetration and build up of bacteria.
Melbourne Airport understands the importance of re-grouting with epoxy grout in their commercial kitchens and bathrooms as it reduces the need for time and resources spent on cleaning their tiles and grout and it is the most durable of all grout types available reducing the need for harsh and intensive cleaning processes and chemicals. In places such as a kitchens or bathrooms, stains are hard to avoid without epoxy grout. Normal sand-based grout is very porous, it soaks up all types of substances which create stains that are hard or even impossible to remove without re-grouting.
With no rest for 30 hours, our GroutPro specialists delivered a permanent, durable, non-porous, stain-proof solution, on time and on budget. Having kept within the time constraints and delivering a top quality job, they exceeded expectations of the Melbourne Airport… another happy GroutPro customer.