Is It Time for a Kitchen or Bathroom Makeover?
Then it's Time to Call GroutPro!
Have you ever walked into an older property and noticed the bathroom or kitchen tiles looking a little sad and neglected?

 As we all know age can do terrible things to any surface and lots of older homes, shopping centres, public areas etc suffer this.
It could be due to a build up of mould, dirt, grease, grime – all of these factors will increase the ageing process. Along with daily wear and tear over a number of years, your tiled areas can really suffer.
So, how can you give these areas a 'makeover' without it costing a fortune in new tiling etc? Generally the cost of a total refurb can be out of reach for most people. This is when we discovered 'GroutPro'.  Their tile cleaning services gives dirty, mouldy tiles and grout a complete 'makeover', bringing any size tiled area back to looking brand new….and within budget.
Scanning through their extensive number of before and after images of kitchens, bathrooms, pool areas, hotel reception areas, shopping centres, changing rooms etc it's fascinating to see the difference in the old to the new. It's sort of like watching the latest episode of 10 Years Younger but with tiles! Many of the customer images we viewed show GroutPro services such as grout re-colouring where the before image shows an old damaged tiled area with patchy grout throughout to then the after shot showing perfect tiles with either a lighter or darker all matching grout surface – amazing transformation.
But the GroutPro services don't stop there, they also offer a glass restoration service. Take a standard shower cubicle for example, the buildup of soap and scum marks on the glass will age the entire bathroom. With GroutPro's Glass Restoration service the glass goes through a 2 stage process, firstly using a non abrasive eco-friendly restorer to clean the dirt and mineral deposits "out of the pores" of the glass. Then, once clean, they apply GroutPro glass protector to seal the surface of the glass and repel the water and dirt. They can even supply you with the correct bio-degradable cleaning fluids to maintain it.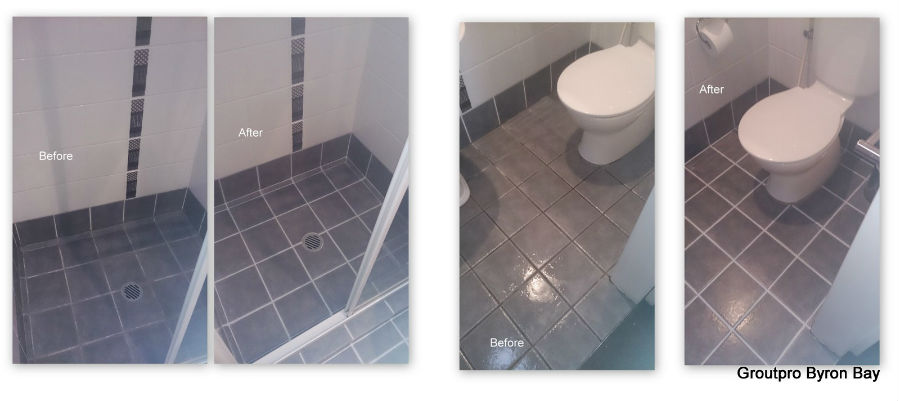 So, like us, If you're noticing your kitchen, floor, bathroom or outdoor patio area looking a bit drab, give the boys from GroutPro a call and let them show your how affordable the full 'makeover' can be. They offer an Obligation Free Quote with a quick turn around and Guarantee their products and work….perfect.
Call GroutPro today for more information about their Kitchen, Floor and Bathroom Makeovers.
Ph 1800 822 459