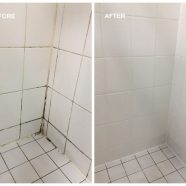 Many people believe that mould is inevitable in bathrooms.

The good news is that with the right preventative measures it needn't be.
As you may know, mould or mildew is a kind of fungi which is common in homes around the world, particularly moist areas. It usually spreads through airborne spores and can form colonies in conditions which are favourable for its growth.
As mould usually grows in damp and dark spaces, bathrooms and showers are where you'll most often find it.
Small amounts of mould are generally harmless, however, once it builds up, it can cause serious health concerns.
In fact, it can cause allergic reactions including sinus problems, rashes or headaches. Worse still, it can also trigger breathing complications and asthma.
Below are some quick tips to help you stop those nasty spores from wreaking havoc on your tiles, grout and silicone seals.
Quick Tips
Keep the doors and windows open as often as you possibly can, especially the shower door after showering.
Install an exhaust fan and always leave it on when you're in the shower and afterwards (we recommend running the fan for 20 minutes after showering).
Dry down the shower walls, floor and silicone seal joints, and after using your towels, spread them out so they can dry out quickly.
De-clutter your bathroom and use fewer containers. This provides fewer surfaces for mould to potentially grow.
Use shower curtains that are easy to clean and dry to avoid soap residue from accumulating in your shower.
Prevent mould build-up on walls and ceilings by using a mould resistant paint. Clean the areas that need to be painted using Sugar Soap and remove any peeling paint. Finally, give your bathroom's walls and ceilings a coat of mould resistant paint.
Cleaning your bathroom regularly helps prevent mould from returning. Use anti-fungal solutions for cleaning the ceiling and floor of your showers and bathrooms.
To remove mould from your bathroom tiles and grout, it's important to use the right cleaning products. Most bleach-based cleaning products only hide mould and mildew by bleaching out the spore colour. Our GroutPro MOULD-PRO PLUS product actually kills mould, mildew and algae and helps keep it under control.
To arrange a quote simply click here to Request a Quote Now or call us on 1800 822 459.

Unfortunately, when the mould build-up is severe, even the most effective cleaning sprays won't be enough to kill the mould and remove the stains on your grout and silicone as it may have already started to penetrate into the surface.  If that has happened then the only option may be to re-grout affected areas and remove and replace the silicone seals. That's where professional tile and grout restoration comes in.
And if you have mould in your bathroom, kitchen or anywhere else, our GroutPro tile and grout restoration specialists can make your surfaces look brand new again.
How Can We Help?
Stained, mouldy or dirty grout and tiles are never sexy.
The great news is that you can make them look brand new again.
With our own formulated tile and grout solutions used by our fully qualified specialists, we not only clean your tiles and grout we can make sure all grout is sealed and protected from staining to retain its durability over time.
Our services include:
Tile & Grout Cleaning
Grout ColourSealing
Tile, Grout & Stone Sealing
Damaged Tile Repairs
Grout Repair & Tile Re-grouting
Terracotta & Slate Resealing
Silicone Seal replacement
Slippery Floor Treatment
Glass Restoration and Glass Protection
Professional Exterior Cleaning
Epoxy Grouting
Bathroom Makeovers

To arrange a quote simply click here to Request a Quote Now or call us on 1800 822 459.