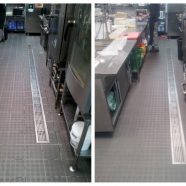 The Challenge with Commercial Tiles
Tiles in commercial kitchens, restaurants or cafés go through a lot.  Not only the constant foot traffic of customers coming and going at all hours of the day or night, or chefs constantly on the move in the kitchen, but also the stains and wears that come from spills and cleaning.  Most tiles are laid with conventional cement and sand based grout, and while this may provide the cheap and easy alternative, conventional sanded grout is very porous which allows it to absorb both solids and liquids very easily causing staining, but also providing a perfect haven for bacteria to thrive.  One of the major health risks in commercial kitchens is oleic acid which is produced when frying food, and this acid together with oils and fats can flow through the grout and into cavities under the tiles where is accumulates and damages the tile adhesive and the floor they are laid on.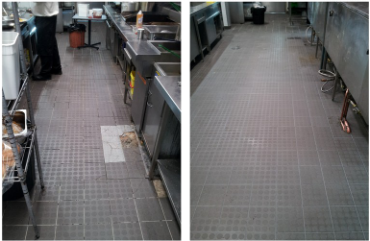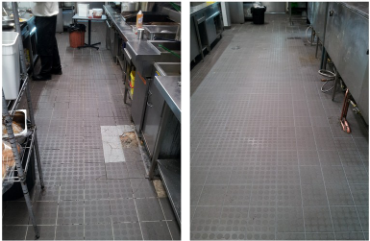 Mopping or hosing down will only remove soil-age and bacteria from the surface but what's absorbed below the surface remains creating a very unhygienic food source for bacteria.  Over time these contaminants together with harsh cleaning products will weaken the grout, tile adhesive and substrate which will begin to fail allowing grout to fall out and tiles to become detached from the substrate.  Your floors not only start to show stains, the integrity and strength of your tiled floors are compromised due to grout that just can't cut it.
How can I make commercial kitchen tiled floors last?
The secret to tiled floors that last is Epoxy grout. Epoxy grout is a two part plastic resin mixed with a filler which is impervious to penetrating staining liquids and solids, and better suited for harsh cleaning products.  Epoxy grout offers greater bond strength and chemical resistance than cement grout providing a surface that can be easily cleaned with conventional methods.  Many fast food outlets specify epoxy grout for their floors for both maintenance cleaning and hygiene reasons.  This means that not only will your floors be more hygienic and last longer, it means that you can thoroughly clean your floors more effectively without having to worry about causing damage with harsh chemicals.
Epoxy Grout is your solution to longer lasting floors
Epoxy grout is used in larger tiled surface areas normally in commercial applications.  Business owners use Epoxy grout in public tiled areas with high levels of foot traffic because it's durable, and easy to clean.  Even home owners are starting to see the benefits of using Epoxy grout in tiled areas, particularly in showers.  It is important to select the correct grade of epoxy grout as they are not all the same.  Your GroutPro specialist can explain the differences and offer a suitable product for your application.
GroutPro offers grout repair and re-grouting services
Our GroutPro specialists were called out to a commercial kitchen at Springwood Country Club – Bathurst, to remove and replace 80 square metres of damaged grout and perform repairs to damages substrate and replace detached tiles.  As the work was in a busy operational kitchen, our teams were working outside operating hours to ensure as little interruption to their business as possible. Check out the photos below to see the results of how it came out.
If you are interested in restoring the tiles and grout in your commercial kitchen or tiled area, contact us today or find a GroutPro specialist near you.