Tile and Grout Cleaning Riverina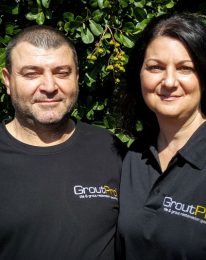 Adele & Tony Rosa
GroutPro Griffith
Our Professional Services Include:
Tile & Grout Cleaning
Grout Colour Sealing
Tile, Grout & Stone Sealing
Damaged Tile Repairs
Grout Repair & Tile Re-Grouting
Silicone Seal Replacement
Slippery Floor Treatment
Glass Restoration & Glass Protection
Professional Exterior Cleaning
Epoxy Grouting
Bathroom Makeover
Kitchen Makeovers
Terracotta & Slate Sealing
When you're looking for quality tile and grout cleaning near Riverina, GroutPro has a new team that can help. Adele and Tony Rosa cover the entire region, including Griffith, Leeton and surround areas, to provide the same level of high quality service as every GroutPro franchise throughout the country. We're happy to welcome this highly trained and exceptionally qualified team to the area, so residents all over Riverina can get the service they need for their kitchens and bathrooms.
Hiring a GroutPro team to work on your grout and tiles is a highly cost-effective way to make them look as though they were just installed a few days ago. This even works for tiled surfaces that have been around for a long time. A lot of people think that they need to completely replace their tiles when they start to look dirty or worn out, but in many cases this isn't true at all. Chances are, those tiles just need to be cleaned by people with the right skills and equipment. That's where GroutPro comes in.
Adele and Tony use professional grade products and highly effective methods to restore and renew the tiled surfaces in your building. Everything they bring to a job site is developed specifically for use by career grout and tile cleaners, and this industrial strength approach ensures that their results are durable and effective. Like every GroutPro Specialist, they're also highly professional. You can expect free, no obligation quotes for their work before you hire them for a job, and quick and efficient clean up when the work is all done.
The GroutPro Approach to Grout Cleaning
You'll get more than just a deep clean of your grout when you call a GroutPro Specialist. We also repair and recolour it, with a process we call Colourseal. It is an efficient way to get rid of ugly looking marks on your grout. As long as the grout is still intact, Colourseal can make it look brand new again, even if it's years old. If your grout isn't still intact, on the other hand, Adele and Tony will still be able to help you out. They'll take out the old grout and replace it. This is a more complex process that requires specialised knowledge to avoid leaving marks behind on the work. Fortunately, Adele and Tony are fully qualified to perform this service, and can even give you advice along the way about how to keep your grout properly maintained over time.
Tile Cleaning in Griffith
They'll be able to restore tiles that you've had for years to the condition they were in on the day you had them installed. With a detail-oriented approach that guarantees high quality results and friendly can-do attitudes that make having them over to work on your grout a stress-free experience, there's no one better in the Riverina region to work on your tiles. For more information about their services, call Adele and Tony Rosa at GroutPro Griffith.